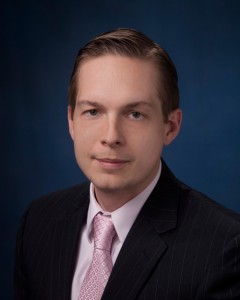 Principal, Daniel Ball, obtained his J.D. from the University of Michigan Law School, where he was a Dean's Merit Scholarship recipient.
Daniel is a native of Evanston, Wyoming. Daniel graduated high school in Evanston and participated in the Wyoming-Montana All-Star basketball game series in 2000. Daniel had a standout basketball career for the University of Great Falls and Lewis-Clark State College and was a two-time Academic All-American. The skills and traits that were instilled in him as part of his background in competitive athletics serves him well in the contentious legal fields of family law and criminal defense.
He received his B.A. in History, summa cum laude, from the University of Great Falls in 2005. Daniel then attended the University Michigan Law School in Ann Arbor, Michigan. The University of Michigan Law school is one of the most prestigious law schools in the country and Daniel was fortunate to experience the opportunities that UM afforded him. Daniel was admitted to the Missouri bar in 2009. Prior to joining Hendrickson Law Firm, P.C. in 2011, Daniel practiced criminal defense in Missouri while his wife, Afton, attended law school at Washington University in St. Louis. Daniel represented clients in serious felony cases in Missouri.
Daniel's wife is from Reed Point, Montana. Daniel and Afton returned to Montana in 2011 and Daniel joined Hendrickson Law Firm. Daniel was admitted to the Montana bar and U.S. District Court, District of Montana, in 2011. He has practiced at Hendrickson Law Firm since 2011.
Daniel has developed a well-regarded practice focused on family law and criminal defense since joining Hendrickson Law Firm. He has represented many clients in divorce and parenting cases with excellent results for his clients. He specializes in dissolution cases and high-conflict parenting plan cases. Daniel has successfully represented clients in serious felony and misdemeanor criminal matters at jury trials and in obtaining dismissals without proceeding to trial. He currently serves as a federal criminal defense attorney the Criminal Justice Act Panel (CJA) for the District of Montana and he is a Board member for the Montana Federal Defenders. Daniel has represented clients in family law and civil cases at the Montana Supreme Court. He has appeared at the 9th Circuit Court of Appeals in Portland, Oregon as part of a criminal appellate matter that was decided in his favor.
Daniel and his wife have six children and are involved their children's sports and activities.